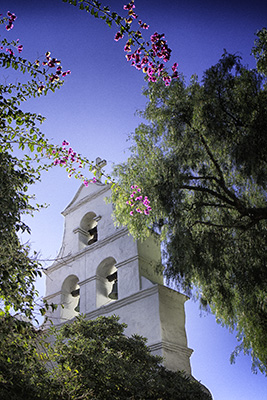 This week I was busy processing the rest of my images from San Diego.  It was hard to choose one for image of the week because there were many good ones and also because I am planning to post a show next week in my virtual gallery so I was a little hesitant to steal my own thunder by posting the best of the best. I ended up choosing this one for being a somewhat off kilter image of an iconic location.
As I am trying to expand my niche as a travel photographer I have been thinking about how to address the iconic locations.  When I have seen the same view of the same location over and over I find it a little off putting to stand in the well worn footprints of the thousands of photographers who have come before me.  On the other hand I don't think you can call yourself a travel photographer if you don't have some shots of the iconic locations in your portfolio.
Since the campanile at the San Diego Mission is usually shot from the front where there is little vegetation nearby I chose to shoot it from the back garden and at an angle to offer something that might not have been seen before.  I also liked the way the bouganvillia and the trees helped to frame the subject though it might be argued that the flowers in the upper left are somewhat distracting.