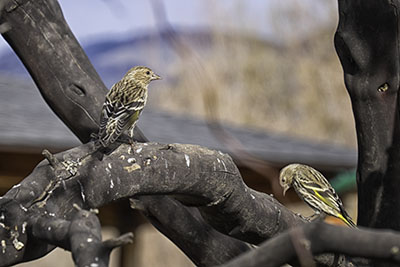 I have been threatening for some time to trade my Canon EOS-M in for a Fujifilm XT-1.  Well Black Friday finally pushed me over the edge and it arrived on Thursday complete with 18-135mm lens (that's 27 to 206 in 35mm terms). I decided to go for the single zoom lens because the whole point is to lighten the load. But I did also get a 60mm macro lens to support my macro habit. So, I found these birds at a local park and the lens did pretty well at 135 though I am now thinking of going back with the "big girl camera" and long lens to do some more intimate portraits of these little guys.
My overall impressions of the XT-1 after two days of shooting?  Love it. It has almost all the capabilities of my Canon 7D at about half the weight.  My one big frustration at this point is the awkwardness of selective focus which requires a function key to operate and does not stay active very long.  I have also had difficulty getting the camera to focus on small subjects, like birds for example, and have to switch into manual focus all too often.  At least that is not too difficult to accomplish.
I love the many dials on the XT-1 which allow for quick adjustments, unlike the EOS-M where everything is electronic.  But there are so many dials and switches on the outside of the camera that the learning curve is a bit steep and I still have some work to do to get to full speed with the camera.
I also bought an Oben Carbon Fiber tripod which folds to about 15″ and weighs about 2 and a half lbs. Ideal for traveling and much nicer for carrying around than the old Manfrotto. It is not sturdy enough for the 7D and long lens but that is OK, I will keep the old one for those rare occasions when I need that.  And the EOS-M? It's working just fine as an in my purse go everywhere camera.  But I think the XT-1 is going to be my new workhorse.