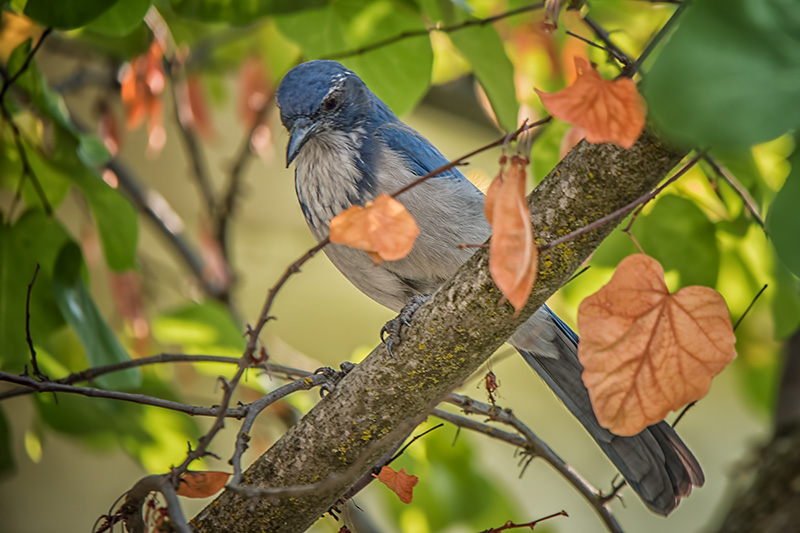 The Blue Jay
No brigadier throughout the year
So civic as the jay.
A neighbor and a warrior too,
With shrill felicity
Pursuing winds that censure us
A February day,
The brother of the universe
Was never blown away.
The snow and he are intimate;
I 've often seen them play
When heaven looked upon us all
With such severity,
I felt apology were due
To an insulted sky,
Whose pompous frown was nutriment
To their temerity.
The pillow of this daring head
Is pungent evergreens;
His larder — terse and militant —
Unknown, refreshing things;
His character a tonic,
His future a dispute;
Unfair an immortality
That leaves this neighbor out.
                           – Emily Dickinson
Today I took to one of my favorite neighborhoods for a camera walk. Ashland's Railroad District is an eclectic mix of businesses and older homes. There are always interesting things to photograph in shop windows and on front porches. There are textures of old wood and rusty metal, flowers blooming, gracious tree lined streets. But today I was only half a block into it when this fellow showed up and perched in a tree where I was contemplating whether the dead leaves were autumnal enough. I knew immediately I had the days image, but I took the walk anyway and came home with many other treasured shots: The hood ornament of an old car shot through a chain link fence, dahlias, zinnias, and crepe myrtle, maple leaves, a glass pear, an old gas pump, a cut out of humpty dumpty, a garden gnome, and a statue of Buddha holding a seashell and, of course, I can never walk by the Coca-Cola sign on the side of the Peerless Hotel without taking at least one picture.