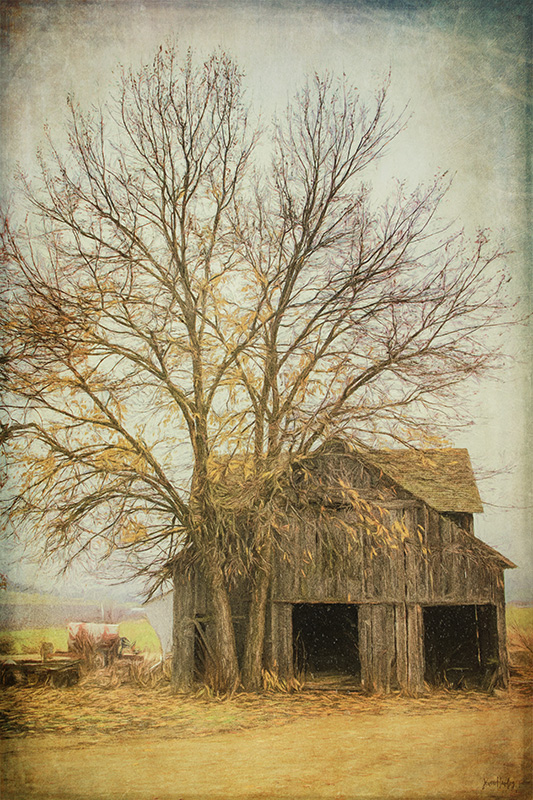 Old Barn
There's an old barn
not far from our house
that's nearing the end of its days.
Its boards are scoured and scored
its roof sags
and there are yawning holes in its sides.
When it was raised
the neat lines of its frame
stood firm against the sky
and it was clad in clean young boards and paint.
Once workmen, with their laughter, came storing hay,
children played in its loft
and young people experimented there with love.
Once cows and horses sheltered between its walls,
and gave birth there to their young,
mice scurried along its beams,
swallows and owls nested under its eaves
and cats came to prowl and prey.
Now the barn is an empty husk
and the fields from which it gathered its hay
have reverted to scraggly woods and scrub.
-Richard Greene
Well, it looks like this murky weather is hear to stay. I'm planning an escape but my calendar doesn't clear up until late next week. Still, it looks like they will be having nice weather outside the valley which will continue to be plagued by fog. And I have some new poetry books coming so lots to look forward to. This old barn was from yesterday's excursion. I discovered it on a backroad not far from my house last winter. I often turn to barns when there are no flowers or birds or leaves to photograph. This one took a few trips through software to give it a more grungy, painterly look. And to add some interest to the flat white sky.