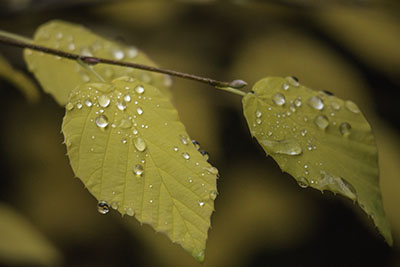 Well, first of all kudos to Canon for finally getting with the program on mirrorless. Not only did they start marketing a telephoto lens in North America, they have introduced an updated version of the EOS M. I haven't yet sprung for the new body (dubbed the EOS M3) but I jumped on the telephoto lens for my original EOS M and have been running around testing it out on autumn leaves and I am pretty happy with the results, all of which have been handheld.  Imagine what I could do with the upgraded body…hmmm. First I need to invest in a telephoto lens for the Fujifilm, and then Tamron has a new medium telephoto that would look good on the 7D…. so many ways to spend my money.
Anyway I found these leaves with raindrops in Lithia Park at the Japanese Gardens which, as of Wednesday were all decked out in stunning colors. The leaves are falling fast though so get there soon.
I made a break from my usual post processing routine and did this one mostly in Lightroom. I cropped in some and even rotated a little to get more of a diagonal line on the branch. I added clarity, vibrance and a touch of saturation. Then needed some noise reduction since I was shooting at high ISO. Finally some sharpening and then I took it into Photoshop for some spot healing and a little darkening around the edges and on the right side to bring out the leaf on the left.